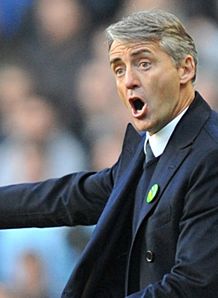 I'm sure if Roberto Mancini placed a call to Phil Parkinson he would have a few words of advice for him right now. Not long ago the North Stand was crying "Parky Out!" but now most of them must be thinking "maybe we should give him a little more time". Tactically I still feel there are questions surrounding Phil, but, potentially, we could be beginning a run of consistently good performances, the likes of which haven't been seen since the Curbishley era and this would finally win me over to the Parkinson bandwagon.
If you had asked me a few weeks ago who I thought would be the first Premiership manager to go this season I would have said Roy Hodgson or Avram Grant, Roberto Mancini would never have entered my mind. Call me naive, but I felt City were starting to build something similar to the Chelsea model. However, whereas Jose Mourinho brought in a number of very good team players, Petr Cech, Claude Makelele, Ricardo Carvalho, etc, and only one or two big egos, Didier Drogba, Mancini has gone for all the big names with the egos attached. This was always going to lead to divisions within the team, but I never thought Tevez would be the one to cause the most trouble. I think it must come down to the manager in this case, Tevez never really had these problems at United, but Alex Ferguson is clearly a much stronger character than Roberto Mancini. Letting Tevez return home to Argentina because he was homesick undermined Mancini's position. It must have raised questions within the squad, considering how many of them are away from home and their families, and I feel these divisions are more to blame for City's current demise than just Tevez's absence on it's own. How can you get all of these big egos to perform when one of them is being indulged more than the others?
I will be interested to see how Man City perform against the yo-yo's that are West Brom, and hopefully we will not see a manager being sacked this weekend.